An Ancient Staple of Health Goes Mainstream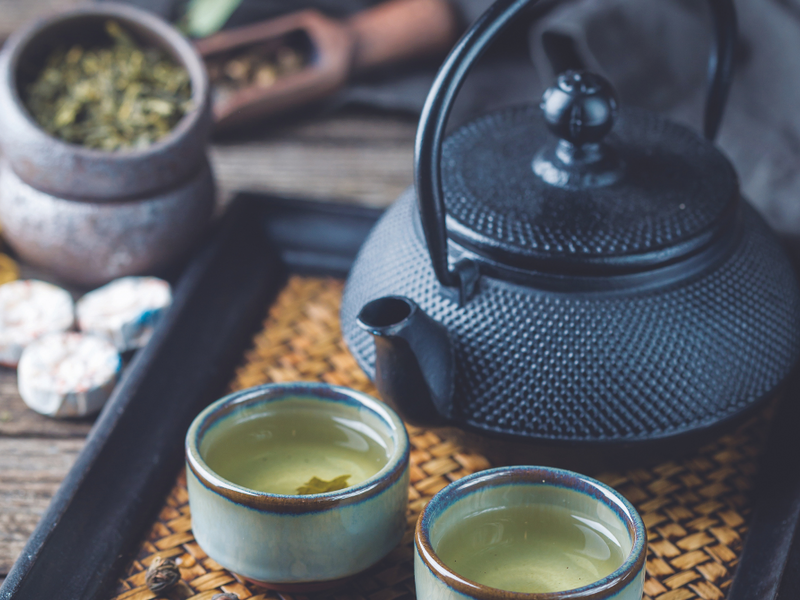 May 21 is International Tea Day. The popularity of tea in the U.S. is growing rapidly, and the environmental and health benefits of tea production and consumption are greater than those of coffee. Tea has an infinite variety of flavors, colors and fragrances that make it a fascinating choice. Exploring the many aspects of tea can be a surprisingly delicious and enlightening experience.
Tea has less caffeine than coffee per serving. Although it has more caffeine than coffee per pound, it takes only one gram of tea to make one cup of tea, whereas it takes about five to 10 times more weight in beans to make one cup of coffee. Also, tea contains L-theanine, a chemical that works synergistically with caffeine to promote a balanced energy boost.
Tea is the most popular prepared beverage in the world. It is consumed globally and more than 6 million metric tons of tea are produced every year. The top three tea-producing countries are China, India and Kenya, while the top tea-consuming countries are Turkey, Ireland and Iran.
Tea is medicinal. It contains xanthines, amino acids and phytochemicals that have numerous health benefits. Tea has been shown to reduce the risk of heart disease, cancer, osteoporosis and stroke. Tea offers increased immunity and gastrointestinal/microbiome benefits, and stabilizes circadian rhythms.
Tea is environmentally friendly. The carbon footprint of tea is up to five times less than that of coffee. Tea trees can grow very tall, and for hundreds of years, while producing millions of servings of tea. Plus, tea leaves from a single plant can be harvested many times throughout the year.
Tea plants are diverse. A single batch of tea leaves can be used to create white, green, brown, red and black tea. The leaves of a tea plant can be processed to create a variety of flavors, fragrances and textures. Each type of processing uses natural oxidation to enhance specific characteristics that add special qualities.
InnerSpace Holistic, located at 2350 Washtenaw Ave., Ste. 14, in Ann Arbor, is hosting an Introductory Tea Class at 5 p.m., May 21. RSVP to Brandy Boehmer at 734-709-8313 or BlissHolistic@yahoo.com. For more information, visit InnerspaceHolistic.com.